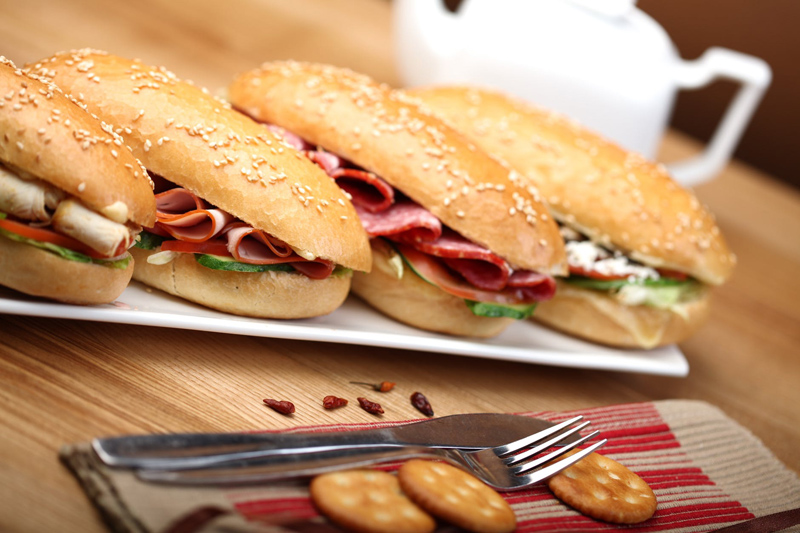 All of the articles here on the Sandwiches Site are organized into categories. Browse through these categories to find the content you're looking for.
A-1 College Cooking
Are you tired of dorm food? Do you want something tasty to eat, but all you have to cook with is a microwave? Look no further. These recipes only use a microwave for cooking tasty sandwich meals.
Around the World
Sandwiches from different countries and cultures are as different as the areas where the sandwiches originate.
Breakfast
Everyone should eat something when they wake up. Start your day out right with one of these breakfast sandwiches. They can be the perfect grab-and-go food.
Brown Bagging
When you are watching the food that you eat, there is nothing like a brown bag lunch to help you reach your goals.
Classics
These are the sandwiches that people have heard of throughout their lifetimes. Learn more about how to make them.
Desserts and Sweets
What is a great sandwich meal without a bit of a sweet treat at the end? Find desserts and sweets to add that perfect finish to your sandwich meal.
Facts and Fun
Learn about sandwiches´ history and what it takes to make them. Sandwiches aren´t just for food. You can have fun with them, too!
Healthy Ideas
Use your imagination to generate healthy ideas for sandwiches and their accompaniments.
Made Without Bread
Lettuce wraps, tortilla wraps, rice wrappers, tacos, and cracker sandwiches are just some of the the "no bread" ideas for sandwiches.
Meatless Monday Recipes
Sandwiches don´t need meat to be tasty. Explore the lighter side of sandwiches with these vegetarian or vegan delights.
Product Reviews
When I find a product that is impressive, you need to know about it. I´ll write a review telling what I like and any problems that the product may have. If you find a product that you want to have rev
Quick and Easy
I love fiddling with elaborate sandwiches. However, sometimes I just need a sandwich that I can make in a red hot minute! You will find those sandwiches here.
Restaurant Fare
Some sandwiches are featured at restaurants more often than they are at home.
Sandwich Ideas
These sandwich ideas are from the Sandwich Name Game in the BellaOnline Sandwich Forum. Instead of recipes, these ideas give lists of ingredients to create your own sandwiches.
Seafood
Seafood makes a tasty filling for an elegant sandwich.
Sides
Side items bring depth to your sandwich meal. Sweet or savory, crunchy or chewy, sides can add pizazz to your sandwich.
Smoothies and Juices
Smoothies and juices are a perfect way to add flavor and nutrition to a sandwich meal.
Soups
Sandwiches love to come to the dinner table with great side dishes and soups. Use these recipes to transform your sandwich into a hearty and delicious meal with a fresh bowl of soup.
Special Occasion
Holidays, baby and bridal showers, and sports events are some reasons to make specialty sandwiches. Specialty sandwiches can be dainty or larger than life explosions of gustatory joy!
Be sure to visit the
Sandwiches Archives
for all the articles!
Editor's Picks Articles
Top Ten Articles
Previous Features
Site Map