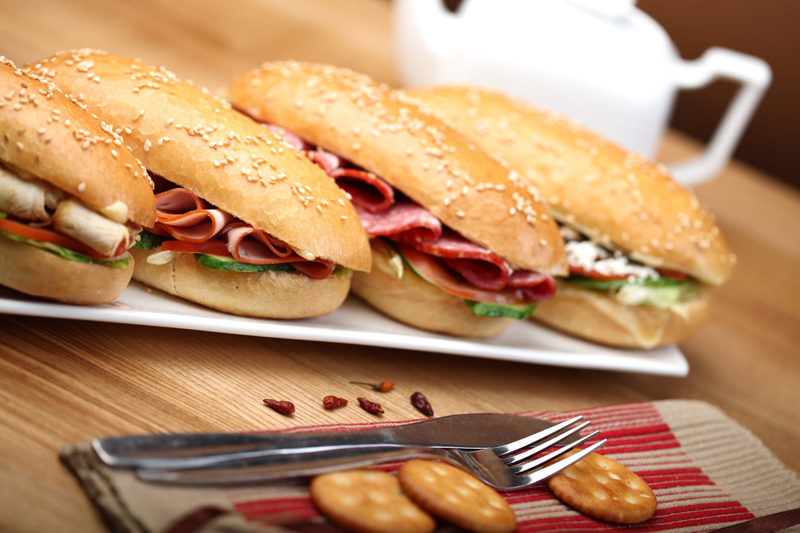 Holidays, baby and bridal showers, and sports events are some reasons to make specialty sandwiches. Specialty sandwiches can be dainty or larger than life explosions of gustatory joy!
15 Potluck Dishes for any Occasion


Clubs meet and share food. Office parties often require bringing a dish to pass around. Sometimes sandwiches are involved, but other times they aren't. These recipes are perfect for sandwich meals, but even if your buffet lacks sandwiches, these dishes are great!
2 Winter Sandwich Buffets with Recipes


When I entertain, I find it difficult to be tied to the kitchen. It's a lot more fun mingling with my guests. When there is a crowd coming over, I much prefer to serve a sandwich buffet meal. I can have my sandwiches, some salads, dessert, and a warm soup in the slow cooker. How easy is that?
A Farewell Buffet Plan


When colleagues leave us, we often want to mark the occasion with a meal. Farewells can be joyous occasions, especially if a person is leaving to pursue their dream. What do you need to consider when planning a Farewell Buffet? Money, dietary restrictions, different tastes! Here's an example.
Braided Beef Sandwich Recipe


I saw a demonstration for making a braided sandwich on the internet. This one uses a roast beef filling, using leftover roast beef, veggies, and cheese. It is a savory filling, just perfect to use in this easy crust. Why is it easy? You can buy some crescent roll dough in a can at the store.
Breaded Pork Hot Sandwich Recipe


Sometimes you just have to make some fried food! These breaded rib eye pork chops will satisfy your craving for a crispy hot sandwich. Pair them with a fresh salad and some fruit for a complete meal. Enjoy your tasty treat!
Brie Baguette and Veggies Sandwich Recipe


Do you ever yearn for a rich and delicious toasty sandwich? This might be what you're looking for! Filled with Brie and richly roasted veggies on a crusty French baguette, this gorgeous sandwich is a treat for the taste buds and the eyes.
Citterio Hard Salame Panini Recipe


A grilled sandwich is tasty, but a pressed and grilled sandwich is a delight! This skillet method really works well. It does not leave the little grill marks like a panini press, but the sandwich is crunchy and pressed. Citterio hard salame and cheese is a delightful combination for a panini.
Creamy Goat Cheese Spread Recipes


Chevre, a fresh and creamy goat cheese that is easy to spread, is a great alternative to cream cheese. It is lower in fat and higher in protein. Flavored chevre often costs more than plain. Don't pay more! Here are two simple and tasty recipes for flavored chevre.
Crispy Chicken Tenders Sandwich Recipe


What makes a sandwich special for you? Taste? Texture? Appearance? This tasty Crispy Chicken Sandwich Recipe is special, indeed! With a crunchy texture and juicy interior, these chicken tenders almost beg to be served in a wrap. Pile those condiments onto that flour tortilla and enjoy this sandwich.
Fall Family Fun with Sandwiches


While Fall officially begins with the Equinox toward the end of September, for many of us, back-to-school and football herald this season. If you are a football family, it's time to get together with friends and share a sandwich meal while you cheer your team to victory. Here are ideas and recipes!
Herbed Goat Cheese Spread Recipe


How do you make a great spread for bread, toast, and crackers? Start with a creamy goat cheese, also called chevre. Then, add just the right mix of herbs. You'll have people eating every last crumb of the delicious Herbed Goat Cheese Spread. Here's the recipe.
Holiday Parties with Sandwiches


When you are planning a casual holiday get-together with friends or family, you can't go wrong with a sandwich buffet. Sandwich buffets give freedom and flexibility to the folks hosting the party. From hearty Italian Party Sandwiches to dainty pinwheels, sandwiches can be the life of any gathering.
Holiday Sandwich Picnic Recipes


These recipes can be made for an indoor buffet, or you can have a wonderful picnic meal, if the weather cooperates for your holiday sandwich meal. No matter where you serve it, this meal has something to satisfy most people. Many of the recipes can be made ahead of time.
Hot Sandwich Meals


Sometimes you want a quick sandwich with a bag of chips and an apple. When you want a satisfying hot meal, and you're not afraid to do some cooking, take another look at sandwich meals. They are filled with soul-satisfying hot foods. Try some tasty sandwich meals to warm the tummy and the spirit!
Italian Party Sandwich Recipe


Do you enjoy having friends and family over for a meal at your house, but you hate getting stuck in the kitchen? Use Italian Party Sandwiches as the main event on your buffet table. Let people serve themselves as you get pleasure from their company.
Maple Mayo Grilled Chicken Sandwich Recipe


Today's recipe features maple mayo in a richly flavored chicken sandwich. The maple mayo makes all the difference between a good sandwich and a great sandwich. Here's a sandwich that is easy to make, but it tastes like you fussed over it.
Mother's Day Sandwich Brunch


For Mother's Day, or any occasion that deserves a good brunch, here are some dishes that can be made ahead of time and served equally well on bone china or paper plates. Serve your meal buffet-style. You'll have time for a pleasant visit with your family and friends.
Sandwiches Word Scramble


Welcome to the Sandwiches Word Scramble! This classic game has you try to guess our word by rearranging the letters given. Can you do it?
Savory Dipping Sauce Recipes for Roast Beef


Grilling always gives a sandwich that special touch. When you add a tasty dipping sauce, your sandwich can be elevated from special to blissful! My Horseradish Dill Dipping Sauce and my Olive Sauce are wonderful additions to any Grilled Roast Beef sandwich meal.
Savory Pinwheel Recipe


Pinwheels are just the thing when you want to take a snack to work or build an exciting and tasty party tray. Serve some of these special sandwiches with a hearty soup. Try these versatile pinwheel recipes. For a small investment of time, you can have special snacks for all occasions.
Special Occasion Sandwich Meals


Don't spend a king's ransom on putting together the food for your special occasion. Base the meal on delightful sandwiches that can go onto a buffet table. You can prepare the meal, then place it on the table for family and friends to serve themselves. Enjoy your time with your loved ones!
Spicy Pinwheel Recipe


Do you enjoy a bit of spice in your snacks? These recipes for Spicy Pinwheels will tingle your taste buds and satisfy your cravings. Combine these spicy pinwheels with savory pinwheels on a decorative platter for entertaining. Beloved by kids and adults alike, pinwheel sandwiches are always a treat
Sweet and Spicy Ham Dip Recipe


Sweet & hot with a deep smoky flavor, this ham dip is an addictive taste treat. Create sandwiches with Sweet and Spicy Ham Dip. You can make this into pinwheels, too! Serve an open-face sandwich with Sweet and Spicy Ham Dip on toasted sourdough bread, garnished with shredded lettuce. What a treat!
Sweet Simple Pinwheels


What could be sweeter than a pinwheel that's easy to make? Combined with fruit, these pinwheels make a charming snack tray for family gatherings or potluck dinners. Yet, they are so simple that a child can make them!
Taco Buffet


Perfect for any season, a taco buffet can make a lot of people very happy by giving them choices. Are your guests vegetarians, dedicated carnivores, or a good mix of the two? You can serve them an assortment of scrumptious ingredients and let them get creative as they build their dream platters!
Valentine's Sandwich Meal Ideas


Some people go all out for Valentine's Day. What if you want something simpler at home? It needs to feel like an occasion, but putting together a lovely sandwich meal doesn't have to take a lot of time or break the bank. Here are ideas for special sandwich meals. Hot links lead to the recipes.
Editor's Picks Articles
Top Ten Articles
Previous Features
Site Map
Content copyright © 2018 by . All rights reserved.
This content was written by . If you wish to use this content in any manner, you need written permission.
Contact BellaOnline Administration for details.