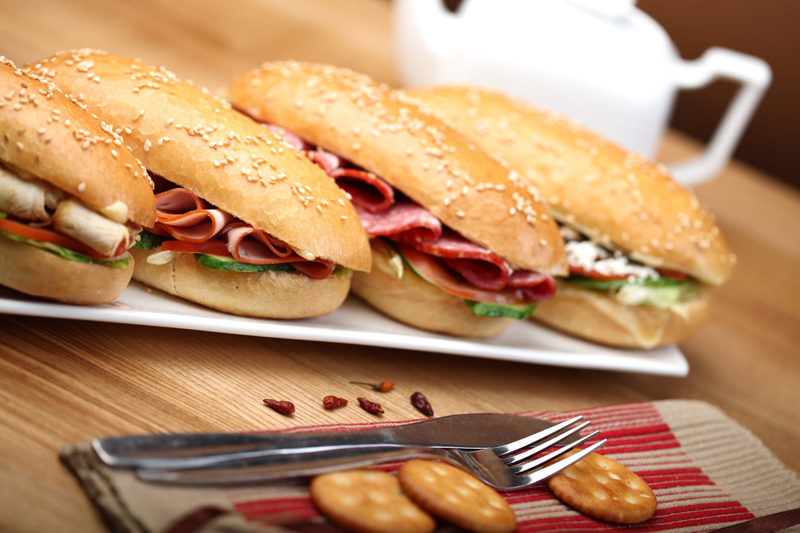 Side items bring depth to your sandwich meal. Sweet or savory, crunchy or chewy, sides can add pizazz to your sandwich.
Bacon Ranch Cauliflower Salad Recipe


Cauliflower dressed in creamy ranch with bacon pairs well with any toasted cheese, grilled sausage, or juicy pork. This creamy, crunchy salad is tasty with sandwiches or wraps. It's perfect for a picnic or a potluck dinner. Plus, it is so easy to make. Try some soon for a real taste treat.
Broccoli Salad Recipe


What takes a sandwich from a quick bite to eat and transforms it into a meal? That would be a delicious and nutritious side dish! An easy-to-make salad side dish made of broccoli fulfills both of those criteria. Broccoli is known as a super food, which many people enjoy a great deal.
Broccoli Squash and Green Bean Salad Recipe


How do you make a great, quick meal? Start with a tasty sandwich. Then, add some sweet fruit and a wonderful low carb salad. Even busy people can have a good meal when the meal starts with a delightful sandwich.
Candied Butternut Squash and Sweet Potatoes Recipe


When can a sweet potato casserole taste great and have better nutrition than its more traditional cousin? Find out when you make this lighter luscious version that tastes like candied yams. Butternut squash replaces part of the sweet potatoes and it has fewer carbs and fat, but delicious taste.
Chef's Salad Ingredient Ideas


Just what is a chef's salad? Traditional chef's salads have lettuce, hard-boiled egg, cheese, and meat. The best chef's salads have your favorite ingredients that are incredibly fresh. Here are some ideas for building your perfect chef's salad for that tasty sandwich meal.
Cherry Tomato Salad for Sandwich Meals


In the winter, cherry tomatoes usually have bolder flavor than their larger cousins. They are perfect for use in sandwich side dishes. Here is a cherry tomato salad side dish, with variations, that perfectly complements sandwiches. Made easily with cherry tomatoes, cucumber, onion, and seasonings.
Chopped Salad Recipe


Chopped salad is a tasty, low carb way to enhance a sandwich meal. Use a variety of finely chopped vegetables and greens to add flavor and texture to your meals. Your favorite salad dressing can lend the crowning touch.
Cilantro Lime and Chives Asian Slaw Recipe


This brightly colored and delightful salad may be used as a sweet and savory side dish. It makes a wonderful side dish for any chicken or pork sandwich. Add some to a brat in a bun. Use it in a wrap sandwich. It is also delightful when it is rolled into rice paper for a fresh spring roll.
Creamy Cauliflower Edamame Salad Recipe


Surprise your family with a creamy dill-flavored cauliflower salad. Where's the surprise in that? Add edamame beans instead of peas. Use one of the new colorful cauliflowers. Solid nutrition, great taste, and gorgeous to behold! Does it get better than this? It takes less than half an hour to make!
Creamy Coleslaw Recipe


This creamy, tangy coleslaw looks and tastes like the coleslaw that comes with fried chicken at restaurants. It's easy to make, and you'll feel like a magician when your friends and family make it disappear!
Cucumber Onion and Dill Salad Recipe


Crunchy and tangy, this classic low-carb salad pairs well with heavier sandwiches. Bring a bit of sunshine to your table when you serve Cucumber Onion and Dill Salad.
Daikon Side Dish Recipes


I am in the midst of a fresh love affair with daikon! A colleague gave me about 3 pounds of delicious daikon. It can be cooked like a turnip or used like a radish in salads. It can also be grated to replace cabbage. Daikon is a healthy choice that can be a delightful part of a sandwich meal.
Easy Low Carb Spinach Salad Recipe


How do you blend tasty and elegant with low carb and nutritious? This Easy Low Carb Spinach Salad Recipe uses frozen, chopped spinach to create a gorgeous mound of salad to delight your senses. It reminds me of the spinach salad served at Putsch's Cafeterias, a 1950's mainstay of the Midwest.
Green Bean Salad Recipes


What can you do if you need a side dish in a hurry? How can you get some vegetables into your diet if you have to cook in a dorm room? Remember the humble canned green beans. They really come into their glory when prepared in a salad side dish. Here are some ideas!
Green Bean Salad Recipes


What can you do if you need a side dish in a hurry? How can you get some vegetables into your diet if you have to cook in a dorm room? Remember the humble canned green beans. They really come into their glory when prepared in a salad side dish. Here are some ideas!
Green Pea and Cauliflower Salad Recipe


This Green Pea and Cauliflower Salad Recipe is perfect for cooking quickly in the microwave! Filled with taste and nutrition, this lovely green and white salad can be prepared by an experienced cook or a first year college student in a dorm.
Italian Cucumber Salad Recipe


Cucumbers have a delicate taste that can easily assume other flavors. This recipe uses the flavors of Italy to make a salad that goes with many different types of sandwiches.
Kale Salad Recipe


For this Kale Salad Recipe, kale and other veggies are tossed with tasty, slightly sweet vinaigrette. The result is an attractive, dark green salad with bursts of color from the carrots, cabbage and craisins. It shines from the oil and honey in the dressing.
Low Carb Seaweed for Sandwich Meals


When I talk to people about eating seaweed, I hear, "Ewww! That sounds terrible!" Before I tried seaweed, I said that, too. Seaweed can be a tasty part of a sandwich meal. It can be used as a salad or as a crispy chip. Check with your grocer about seaweed products. They are also sold at Costco.
Marinated Vegetable Salad Recipe


This tasty marinated vegetable salad pairs with a sandwich to make it into a complete meal. Try scooping the marinated vegetables with their lovely dressing onto a plain bowl of salad greens. Wow! Suddenly, those greens are no longer plain!
Microwave Green Beans Recipe


Who doesn't love green beans? Canned green beans are one of the original convenience foods. Some people think that fresh or frozen green beans are too much trouble to mess with, but they are not! Cooking fresh or frozen green beans is a breeze when you follow the directions in this recipe.
Mixed Veggie and Fruit Slaw Recipe


This is a light and tasty slaw that is just full of flavor. If you want a sweet slaw, leave out the optional ingredients. Adding the optional ingredients will give your slaw a sweet and savory flavor. Serve this as a side dish with your sandwich meal or as part of a sausage breakfast sandwich. Yum!
Oriental Cabbage Salad Recipe


Do you need a great dish to take to parties and family gatherings? Oriental Cabbage Salad fills the bill! Perfect as a low-carb side dish to pair with sandwiches, this salad can also be used to make sandwiches. Wrap the salad in a fresh tortilla or rice wrapper with seafood, chicken or pork. Wow!
Orzo Salad Recipe


No need to take the walk of shame at a potluck meal with a store-bought dish; try making this salad, instead. Orzo salad takes less than 30 minutes to make, from start to finish. Pull together a few common ingredients, refrigerate it for 3 hours, and serve it proudly. Tasty! Try some soon!
Peppadew Pepper Recipes


Peppadew peppers are small bright red peppers that are sweet and spicy at the same time. They are about the size of cherry tomatoes. While Peppadews are expensive, about $12 a jar, it doesn't take a lot of Peppadew to add a splash of their wonderful flavor. Here are some easy ideas for their use.
Pickled Hot Potato Salad Recipe


This delicately spiced hot potato salad has an unusually frugal ingredient. Use those leftover dill pickle juices from Claussen Kosher Dills! Instead of using vinegar, add the pickle juice to your hot potato salad for some tangy goodness. It does sound a bit strange, but you'll love it!
Potato Salad with Pickles and Pimentos Recipe


Do you think of potato salad as only picnic or potluck food? It is so much more! Tasty at any time of year, this potato salad delivers flavor and solid nutrition. Serve this potato salad with your favorite sandwiches to build wonderful sandwich meals.
Roasted Seasoned Butternut Squash Recipe


This recipe makes a lot of food. You can use this as a side dish for a sandwich meal. Slide some Roasted Seasoned Butternut Squash into a pita or flour tortilla with shredded pepperjack cheese, slivered onions, and shredded lettuce. It's a tasty vegetarian sandwich delight with tzatziki sauce.
Rotini Olive Pasta Salad Recipe


This pasta salad is simply the easiest and tastiest chilled pasta that you can make! There's no chopping involved. All you have to cook is the pasta. Then, stir in the rest of the ingredients and chill the salad. That's it! Easy cheesy! Enjoy your sandwiches with this delightful salad!
Sautéed Mixed Greens Recipe


Easy to prepare, low in calories and carbs, greens are nutritional powerhouses! Greens, like bok choy, collards, mustards, turnips, and kale, typically are low in calories and carbohydrates. They are high in anti-oxidants, fiber, vitamins, and minerals. Plus, they taste great with a sandwich!
Spinach Dip and Pinwheel Recipe


Healthy doesn't mean bland or boring. This Spinach Dip and Pinwheel Recipe has less fat than many dip recipes. It's filled with low carb, tasty spinach and has a great balance of smooth to tangy tastes. Use it to serve with a sandwich and chips. Spread it on your sandwich, or make pinwheels.
Summer Squash Salad Recipe


The hot, lazy days of summer bring out the best in a squash plant. Filled with flavor, this colorful Summer Squash Salad pairs well with any Italian-type sandwich. Take it to a summer potluck, or make it in the winter to remember the heat of the summer sun and the lazy days of summer squash.
Sweet Pepper Italian Veggie Side Dish Recipe


Sweet mini peppers make a glorious addition to your menu. Eat them raw or cook them. This Sweet Pepper Italian Veggie Side Dish Recipe is especially delicious. Any way that you slice your sweet mini peppers, they are a treat for all of your senses.
Editor's Picks Articles
Top Ten Articles
Previous Features
Site Map
Content copyright © 2018 by . All rights reserved.
This content was written by . If you wish to use this content in any manner, you need written permission.
Contact BellaOnline Administration for details.