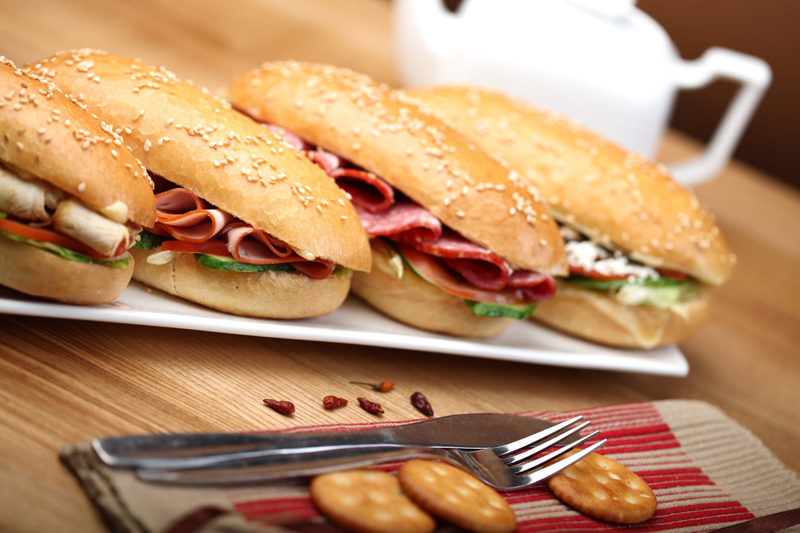 When I find a product that is impressive, you need to know about it. I´ll write a review telling what I like and any problems that the product may have. If you find a product that you want to have rev
Amylu Apple & Gouda Chicken Sausage Review


When you look for a tasty chicken sausage, consider Amylu gourmet sausages. One drawback that many sausages have is their nutritional profiles. When compared to a brat, the Apple and Gouda Chicken Sausage by Amylu compares very favorably in several different measures.
Artisan Bread with Steve Review


No Knead Turbo Rolls by Steve Gamelin-From the kitchen of Artisan Bread with Steve is the easiest way that I've found to make delicious rolls & bread for a fraction of the cost of store bought artisan rolls. You use no mixer or bread maker, but it takes just minutes to make the dough! Try this!
Athens Spanakopita Review


What is a sandwich? Is it two slices of bread with a filling? A sandwich can also be a filling that is wrapped and is usually eaten by picking it up in one's hand. Recently, I found Athens Spanakopita. They are as tasty as my restaurant favorite, but I can bake them at home for a lot less money.
Berbere Seasoning Ideas


In my kitchen, except for salt, truffle salt, pepper, and Lawry's Seasoned Salt, Berbere Seasoning is my favorite seasoning. It doesn't just add heat to whatever you sprinkle it over, it adds a delicious and delicate flavor. Here are some ways to use Berbere Seasoning.
Cattlemen's Ranch Black Angus Patties Review


What can you do if you want a burger, but you don't feel like grubbing around in a package of raw hamburger? Aldi has frozen 1/3 pound burgers, called Cattlemen's Ranch Black Angus Beef Patties, ready to cook. This review gives some details about this product and ideas for those special burgers.
CedarLane Quinoa Tabouli Review


I'm always looking for new products that are real foods. You know which ones that I mean. They're the foods where you can pronounce all of the ingredients on the label. There's nothing strange there, just wholesome ingredients that taste great. A recent Costco find was CedarLane's Quinoa Tabouli.
Chunky Spinach Artichoke & Parmesan Dip Review


I think that the good folks at La Terra Fina should rename their unbelievably delicious Chunky Spinach Artichoke & Parmesan Dip. The name tells the major ingredients, but it doesn't give a hint of how versatile this dip is. I would call it "The Sandwich Makers' Friend." I highly recommend it.
Coleman's Natural Chicken Burger Wrap Recipe


Cruising through my local Costco the other day, I sampled Coleman's Natural Chicken Burgers with Spinach and Fontina Cheese. These little beauties tasted good, and I liked what I read on the package. With a tasty dressing, they made a delicious wrap sandwich.
Daddy Hinkle's Original Marinade Review


I enjoy the Original Daddy Hinkle's with its mild garlic and onion taste, and I highly recommend it. This marinade does a wonderful job of tenderizing and making my meats juicy. Since I love a little heat, I added spices to the dry rub to make a dandy spicy marinade with a tiny hot kick.
Delicious Frick's Ham Slices Review


Are you tired of ham that just doesn't taste right? Frick's Quality Meats makes ham slices that are perfect for all of your sandwich needs. This is artisan ham that is made with real sugar in small batches, and actually hardwood smoked. Since 1896, they've made ham, and they are good at it!
Don Lee Farms Angus Patties Review and Recipe


Don Lee Farms Angus Patties are fully-cooked burgers that helped us to save money, since they are so easy to fix. Use them instead of going out for fast food. They can be prepared in a pan, microwaved, or grilled in a matter of minutes. The article includes a recipe for a succulent Pattie Melt.
Ezekiel 4:9 Sprouted Grain Bread Review


Have you been looking for a nutritious, certified organic bread that also has great taste? Look no further than Ezekiel 4:9 Bread from the Food for Life company. This sprouted grain bread has excellent nutrition and it can be used for delicious sandwiches.
Frozen Triple Cherry Blend Review


Antioxidant Solutions makes a Triple Cherry Blend that will have you smacking your lips and begging for more! Made up of tart cherries, sweet cherries and Balaton cherries, this blend works well as part of sandwich meal. My Fresh Cherry Limeade Recipe, a taste of summer all year long, is included!
Gilbert's Beef and Cheddar Craft Sausage Review


When you are longing for a sausage that will remind you of the hot dogs of your youth, try Gilbert's Craft Sausages. Filled with delicious flavor, the Gilbert's Craft Sausages have no MSG, nitrites or nitrates. They are uncured, smoked and individually wrapped. This review also has serving ideas.
Gouda and Chicken Sandwich Recipe


Making a sandwich is not hard. Creating a great sandwich needs fabulous ingredients. Heartland Creamery's cheeses and LaBrea Bakery's breads are ingredients that you dream of finding. Combined as a Gouda and Chicken Sandwich on Whole Grain Bread, it's a simple-to-make sandwich that's fantastic.
Grains & Quinoa Salad Review


Would you like to add some grainy goodness to your meals? How about a product that functions equally well as a wrap filling, salad, or casserole main dish? An addition to the Betty Crocker Suddenly Salad Select group is Grains and Quinoa Salad with cranberries and almonds. I highly recommend it!
Hot Cheese Review and Recipes


When you want to add flavor to a sandwich, nothing satisfies like cheese. If you use one of the pepper cheeses, you get a satisfying little spicy kick as part of the flavor. Use the chipotle cheeses when you also want the addition of a smoky flavor. Exercise your creativity with hot cheese!
Jack Stack Burnt Ends Review


Have you ever been craving a burnt end sandwich, but you just couldn't face leaving the house to go out to eat? Jack Stack Burnt Ends are available at Costco in a 2-pack with sauce and burnt ends. Each pack has a pound of the meat and sauce for a total of 2 pounds of smoky barbecue goodness. Yummy!
Jack's Special Medium Salsa Review


Jack's Special Medium Salsa, from the Garden Fresh Gourmet. is a must-have for anybody who loves to cook, but doesn't want to spend all of their free time in the kitchen. Why does Jack's Special Medium Salsa jar say that it is America's Award-Winning Salsa? Read more to find out!
Kim's Magic Pop Review


Are you looking for low-carb foods to help you make your delicious sandwiches? Do you want a crunchy little snack that won't break the calorie bank? Try Kim's Magic Pop! Read my review to find out more.
Low Carb Cheesewich Product Review


Cheesewiches are perfectly sized for a hearty snack or a light meal. They fit into a small cooler in the car's cabin for a road trip. I thoroughly enjoyed my tasty Pepper Jack and Salami Cheesewich. These gluten free and keto friendly sandwiches are a delish alternative to a sandwich with bread.
Malibu Vegetarian Burger Review


The Malibu Burger by Gardenburger is a tasty combination of organic, whole grain ingredients which satisfies that longing for a hearty sandwich. It is a vegan burger, easy to prepare, and is suitable for Meatless Monday meals. We have ideas for making a variety of sandwiches using the Malibu Burger.
NINJA 1200 Ultra Kitchen System Review


I've never gotten into the smoothie craze, but I would love to add more fruits and vegetables to my sandwich meals. To make a smoothie, you need to have a machine to process the food. I chose the NINJA 1200 Ultra Kitchen System, which I found on sale. Given its low cost, how did it perform?
Oscar Mayer Naturals Deli Meats Review


Light on calories and large on taste, Oscar Mayer Naturals Deli Meats are minimally processed without artificial chemicals or flavors. This article reviews Applewood Smoked Turkey and Ham. There are also sandwich ideas for enjoying these tasty deli meats.
Party-Tizers Ancient Grain Dippin' Chip Review


I recommend the Party-Tizers Ancient Grain Dippin' Chips as part of a great sandwich meal. They have a pleasant taste and texture. These chips have the perfect shape for handling the right amount of a dip. They don't buckle under a heavy load! Their website lists stores that carry these chips.
Peppadew Piquanté Mild Peppers Review


Peppadew is the trademarked name of a type of small bright red piquanté pepper discovered in South Africa. They are unique little bits of gustatory joy, and they add a kick of heat and a sweet taste to whatever food that they enhance. Ideas for use of this unique pepper are included in the article.
Pepperidge Farm Stone Baked Artisan Rolls Review


Have you tried the new Pepperidge Farm Stone Baked Artisan Rolls? I saw them in the freezer section of the store and bought a package. My review discusses taste, nutrition, and gives suggestions for their use in sandwich meals.
Power Your Diet nutrition-and-you.com Review


Where do you go to get nutritional information? You need a trusted source. Here is a review of the website "Power Your Diet www.nutrition-and-you.com." This site is filled with well-written and accurate information about fruits, vegetables, nuts, seeds, herbs, spices, and oils. Check it out!
Sunset Campari Tomato Review


What is it about the Sunset Campari Tomatoes that sets them apart from most commercially produced tomatoes? Simply put, it's the taste. Bite into one, close your eyes, and revel in the taste of summer. Then, put that Sunset Campari tomato to good use. Make it a part of a delicious sandwich meal!
Tasty Bite Madras Lentils Review


I love Indian food. I'd far rather eat pakoras than fries! When I heard about Tasty Bite Madras Lentils, I was intrigued. How could an Indian lentil dish in a plastic pouch taste good? I was surprised; yes I was! Full of yummy ingredients!
Vermont Maple Balsamic Vinegar Review


Vermont Maple Balsamic Vinegar is an amazing addition to your kitchen condiments. It has the richness that you would expect in a balsamic vinegar. There's also a touch of sweetness and an intense maple flavor. The Tasteful Olive is happy to ship a bottle to you if you have no local source.
Wholly Guacamole Product Review


Looking for a quick and easy way to add zest to a sandwich meal? Wholly Guacamole was made just for you. Naturally tasty, Wholly Guacamole is just what its name advertises. These refrigerated ingredients include avocado, jalapeno puree, onions, salt, and garlic. It's good food!
Zatarain's Wonderful Fish-Fri Review


Zatarain's Wonderful Fish-Fri is an unseasoned corn-based coating mix for fish. Season it with your favorite herbs and spices. I like to combine my spicy coating mix in equal measure with yellow cornmeal. That gives fish a real down-home crispy, crunchy coating. Recipes are included in the article!
Editor's Picks Articles
Top Ten Articles
Previous Features
Site Map
Content copyright © 2018 by . All rights reserved.
This content was written by . If you wish to use this content in any manner, you need written permission.
Contact BellaOnline Administration for details.