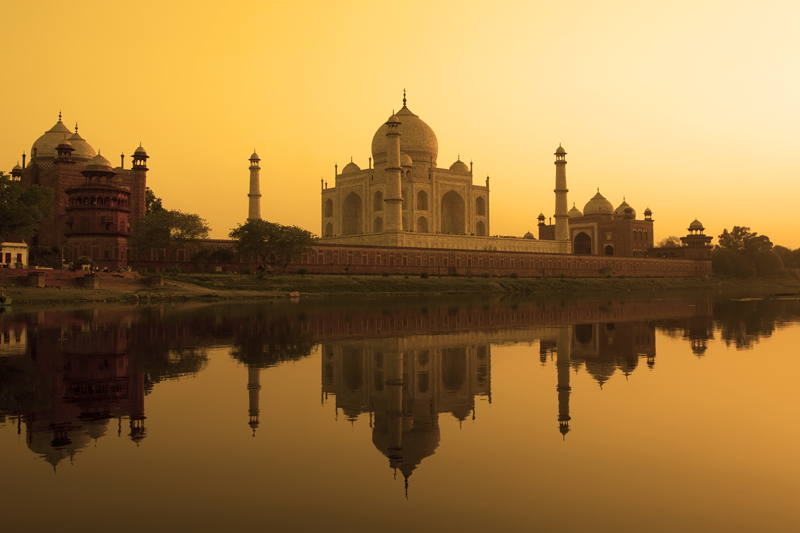 The Indian sub-continent is partially surrounded by the Indian Ocean, which is filled with the freshest variety of seafood imaginable. These are a few of my favorite & most popular seafood recipes.
**Fusion Seafood Recipes


A yummy collection of simple to prepare "Indian inspired" seafood dishes with a decidedly exotic twist that will surely "wow!" your family & friends :-)
**Shellfish Recipes


A delicious collection of dishes made using shrimp, scallops, clams, mussels or crabs. Many of these recipes can be made with various kinds of different shellfish.
**Whole Fish Recipes


Cooking a whole fish makes for a fantastic presentation! So impress your family & friends - try my delicious & easy to prepare selection of whole fish recipes.
Ambat Shrimp Curry Recipe


"Ambat" means "sour", but I mean sour in a good way - to enhance & balance out the other flavors in a dish giving it a more tangy taste. That being said, my Ambat Shrimp Curry is a lovely & delicious dish that personifies all of these wonderful characteristics. You must try it soon!
Assamese Sour Fish Curry Recipe


Masor Tenga is a mouth-watering fish curry from the lovely & scenic state of Assam, located just south of the Himalayas. Assamese cuisine relies heavily upon local ingredients & their seasonal availability, this delicious dish is a wonderful representation of what Assamese cuisine has to offer.
Balti Calamari Recipe


The term "Balti" actually refers to the cooking vessel in which the food is both made and often served. My Balti Calamari is tender & full of yummy flavors. If you are not a big fan of squid, do feel free to use shrimp or even fish instead. The dish will still be delicious.
Balti Fish Curry Recipe


Balti Cuisine is a style of Indian food that can actually trace its roots back to England. My delicious Balti Fish Curry is a real family favorite & always a big hit with the kids. Tender pieces of lovely fish gently poached in a delicately spiced tomato based broth – simply heavenly!
Butterfish Korma Recipe


Butterfish Korma! The name says it all, delicious succulent butterfish in a rich & creamy aromatic curry - this lovely dish is always the shining star of any Indian meal. If you have never had butterfish before, you are in for a real treat - this delicate fish has both fantastic taste & texture.
Doi Maach Recipe


Bengali cuisine is very famous for its delicious seafood dishes, Doi Maach is simply fish in a spicy yogurt based curry. This delicious Bengali dish is easy to prepare and a must for any seafood lover, serve it with fresh warm rotis (flatbread) and fragrant Basmati rice for a tasty & healthy dinner.
Ginger Fish Recipe


Ginger is a wonderful aromatic used daily in most Asian cuisines. In fact, I couldn't cook without it, ginger has such a lovely flavor & aroma that perfumes any dish. This dish is so simple, so easy & so delicious! My tasty Ginger Fish will always have you asking for more.
Goan Fish Curry Recipe


Seafood plays a huge role in the typical Goan diet. Eating fish at least 1-2 times a week is both healthy & recommended for a heart smart diet. My easy & delicious Goan Fish Curry is full of bold flavors, it's always a big hit with both family & friends :-)
Indian Fish Curry Recipes


Malabar Fish Curry is a delicious South Indian favorite while Parsi Fish Curry blends both Persian and Indian flavors together in one dish. Try them both and see if you can chose your favorite, but I have to warn you - it's a very tough decision!
Jhat Pat Salmon Fish Curry Recipe


My delicious Jhatpat Salmon Fish Curry is a simple & flavorful weeknight meal that comes together very quickly. Salmon is very healthy, nutritious, full of Omega 3s & is also widely available all year round. In the Marathi language, "jhatpat" means quickly, so try my curry soon :-)
Kadai Stir-Fried Fish Recipe


A kadai is basically an Indian wok & an indispensable tool in any proper Indian kitchen. I had recently received a beautiful new copper-bottomed kadai & making my delicious Kadai Stir-Fried Fish recipe was a tasty way to test it out my new acquisition. This simple dish can be made in a snap!
Kokum Fish Curry Recipe


Want to try an exotic curry for dinner tonight? Well then, my Kokum Fish Curry definitely fits the bill! Kokum is a dark purple fruit native to India and is commonly used as a "souring agent" especially in Goan, Konkani & Maharashtrian cuisines. It is found usually in its dried form.
Machchi Amritsari Recipe


Spice up your fish - Punjabi style! My Machchi Amritsari recipe is India's answer to spicy fried fish. This fish has both awesome taste & crunch. It's perfect with just about any meal and a huge favorite among both kids & adults alike. Make some for your family today :-)
Oriya Fish Curry Recipe


Orissa, located on India's eastern coast, is one of India's most scenic states. Oriya cuisine is usually delicate & mildly spiced with seafood playing a huge role in the typical Oriya diet. My delicious Oriya Fish Curry is a great example of food from this region, make it soon & taste for yourself.
Spicy Fish Parcels Recipe


A super simple, healthy & delicious way to prepare your fish. You can use halibut, snapper, salmon or your favorite fish variety. Traditionally in India, banana leaves are used to make these fish parcels but you can easily use parchment paper in a pinch.
Spicy Indian Fish Fingers Recipe


My Spicy Indian Fish Fingers are super easy to make, super crunchy & just super delicious! This is a true family favorite, especially with the kids. Any firm, white fish will work well in this recipe - serve them as an appetizer, snack or side dish along with any tasty meal.
Squid Masala Recipe


My Spicy Squid Masala is very different from the more familiar Fried Calamari. It's Indian in nature & much healthier too. Think: aromatic & flavorful curry gently simmered with tender pieces of squid. It's super easy & delicious to boot. This dish can also be made with shrimp or scallops too.
Sri Lankan Fish Curry Recipe


A delicious & easy fish curry from India's southern neighbor - Sri Lanka. Being an island, Sri Lankan cuisine boasts some of the freshest seafood around but the key to this tasty curry lies in my special home made Sri Lankan Curry Powder.
Sukhi Fish Fry Recipe


A quick & simple Maharashtrian stir-fried fish dish. This delicious dish comes together literally in just minutes, so it's the perfect meal any time of week! Best of all, it's also very healthy to boot. We make this dish quite often & serve it simply with phulkas (flatbread) & rice.
Swordfish Tikka Jalfrezi Recipe


Swordfish has a delicious taste & lovely firm texture, it's one of my favorite fish varieties. My Swordfish Tikka Jalfrezi recipe is a wonderful curry that is easy to prepare, delicious to eat and the perfect way to use grilled leftovers!
Swordfish Tikka Kebab Recipe


My Swordfish Tikka Kebabs are simple, light and very healthy. This delicious dish is just perfect for the grill but can also be made in the oven. Make a few extra swordfish skewers so you can use them to make my Swordfish Tikka jalfrezi curry :-)
Tamarind Fish Curry Recipe


I love the unique taste of tamarind! Tamarind is native to India and is used as a souring agent in cooking, especially in South India. My delicious Tamarind Fish Curry combines sweet, sour and tangy flavors all in one heavenly little bite.
Editor's Picks Articles
Top Ten Articles
Previous Features
Site Map
Follow @SadhanaGinde
Tweet
Content copyright © 2018 by . All rights reserved.
This content was written by . If you wish to use this content in any manner, you need written permission.
Contact Sadhana Ginde for details.